Pricing, Info & Map
Pricing
50% deposits are due within 7 days of making a reservation and balances due upon arrival.
Deposits are non-refundable; however, dates may be changed.
These are hunts, not guaranteed kills.
Lodging – The following prices are per person.
$60 per person, per night
Hunt Packages
You can find the prices for the hunting packages on their respective pages.
Contact Info
You can reach Tacubaya Ranch Hunting at the following phone numbers or email address:
General Office Contact – Tony Chavez:
Office: 361-568-3440
Toll Free 800-687-4734
Email: tacubayahunting@gmail.com
Mailing Address
Tacubaya Ranch
687 FM 430
Encino, TX 78353
Dining Near Tacubaya
Delicias: 361-568-3358
Quote from Texas Monthly July 2010
"Blink and you might pass by this small roadside gas station/restaurant. A quiet stop along Highway 281, Delicias specializes in homey Mexican food, like the Avocado Mexican Dinner: a beef taco and two enchiladas stuffed with spiced ground beef and guacamole, topped with chili con carne, cheddar cheese, onions, and even more guacamole. We also love the chicken-fried steak smothered with cream gravy and served with fries. Don't forget to ask for some of their amazing, hot-off-the-grill flour tortillas. Beer & malt liquor. 7529 S. U.S. 281 (361-568-3358). Open Mon-Fri 5 a.m.-8 p.m., Sat & Sun 7 a.m.-8 p.m."
Trevino's Country Store: 361-568-3253
Trevino's, located 10 minutes from Tacubaya, is the perfect place to grab a quick bite to eat, something to drink or even an ice cream bar.  They are open Tues-Sun for breakfast, lunch & dinner. Menu items include cheeseburgers, chicken tenders, fish sandwiches, fried chicken, chicken fried steak, chicken fried chicken and grilled chicken sandwiches.
Directions to Tacubaya Ranch
Tacubaya Ranch is located approximately 3 hours south of San Antonio, TX and 45 minutes north of McAllen, TX off Hwy 281 in Brooks County. If traveling south on Hwy. 281, drive approximately 23 miles south of Falfurrias, TX. Turn right on FM 755 , in Rachal, heading west. Continue on FM 755 for 7.4 miles until you reach a dead end/stop sign (you will see a sign directing you to Tacubaya), turn right onto FM 430. Continue on FM 430 for 3 miles. Tacubaya is on the left hand side of the road at #687. You will see a brick house with a circle drive and a carport just past the house.
If you choose to use MapQuest or Yahoo! Maps for directions, simply enter your destination as Tacubaya, TX.
This map shows Tacubaya's location in relation to San Antonio.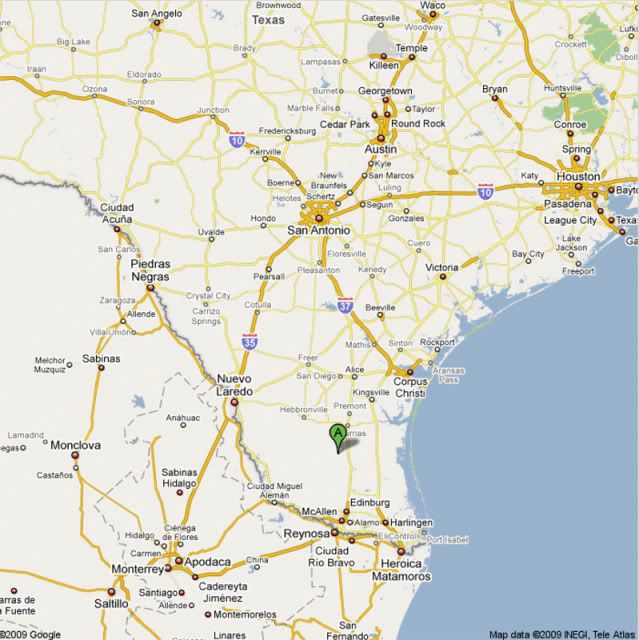 This map shows highway 755 turning off of Hwy 281 just south of Encino.